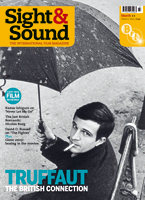 Our March issue brings together a number of filmmakers who in one way or another have faced struggles to get their particular vision made and seen.
David O Russell's The Fighter, his first film since 2004's I ♥ Huckabees, sees Mark Wahlberg star as real-life boxer Micky Ward, a quiet man living in the shadow of his mercurial brother Dicky, a former champ turned notorious crack addict, played in an Oscar-tipped performance by Christian Bale.
The Fighter is only the latest film to mine the cinematic potential of boxing, which runs from silent newsreels, through John Garfield and De Niro, up to Russell's update for the HBO era. Kim Newman traces the history of boxing in the movies, and finds that "The Fighter may be an ordinary biopic, but as a boxing movie it's unusual – for the simple reason that, broadly, it's in favour of the sport."
James Bell also steps in the ring with director David O Russell for a chat, the director talking about the challenges of capturing the raw, sweaty immediacy of a fight, and how he welcomed Wahlberg and Bale's contrasting acting styles because "you need both – it's like the yin and the yang. You don't have the movie without either one of them – it's the combustion that creates the drama."
François Truffaut famously commented on the incompatibility between the words 'British' and 'cinema', but as a retrospective of the films of the founding father of the nouvelle vague opens at the BFI Southbank, Catherine Wheatley considers how that applied to his own work in particular – finding that, despite his changing critical fortunes in Britain, "of all the nouvelle vague directors, Truffaut is the one who extended the hand of friendship across the channel… [including] a special appreciation of English actresses".
That appreciation was never more successful, argues David Thomson, than in Truffaut's neglected masterpiece, the sombre and literary Anne and Muriel (1971), "a story about how dangerous love is, and the wounds it leaves".
Another foreign director to have recently brought his 'outsider's gaze' to imagining Britain is the American music-video- turned film-director Mark Romanek, who has adapted Kazuo Ishiguro's Never Let Me Go, a vision of an alternate-reality post-war Britain in which the major scientific breakthroughs came in genetics rather than nuclear physics – a world in which human cloning is an accepted fact. Romanek talks to Henry K. Miller about his film, while Ishiguro talks to Nick James about the experience of seeing his novel realised – and enriched – on screen. "When it's one of my novels being turned into a film… " Ishiguro says, "I don't want to see the images from my head, I want the authority of the film to take over, so that it's almost like I'm watching a new story altogether."
If Truffaut and Romanek are among the many foreign directors to have found inspiration working in Britain, then Nicolas Roeg is a British director who has looked overseas for fuel for his own creativity, particularly in the run of extraordinary films he made in the 1970s – a run that was all the more remarkable, says Nick James, "because it happened during a period of extraordinary creativity in the cinema… The films of directors at this time were alike only in being unafraid of seeming pretentious or experimental, and in tending to assume an absorption in the arts as necessary to modern life, while sharing a desperate need to be iconoclastic. In other words, they were romantics." Where, laments James, is that sensibility to be found in British cinema today?
If Roeg faced struggles to pursue his particular strain of romantic cinema in the different climate of post-1980s Britain, it's worth remembering that the obstacles in the path of gifted filmmakers have never been greater than they are currently in Iran, where Jafar Panahi is now imprisoned, not for a film he made, but for one he wanted to make. Panahi's colleague and compatriot, the director Rafi Pitts, has responded with an open letter to President Ahmadinejad, which we publish in full in the magazine, while Gabe Klinger talks to Pitts about the case, and about the struggle to make films in present-day Iran.
This month also sees us publish our comprehensive annual survey of the notable film actors, directors and more who died during the course of 2010. The full list of obituaries is compiled by Bob Mastrangelo, while we also publish longer considerations of the life and work of Takamine Hideko, Werner Schroeter, Jean Simmons, William Lubtchansky, Robert F. Boyle, Clive Donner, Leslie Nielsen, Luis Garcìa Berlanga and Sally Menke.
Our Film of the Month is set among English upper-middle class characters of the kind that British cinema explores surprisingly rarely, preferring costume dramas, mockney gangsters or gritty council-estate realism. But with her second feature Archipelago, argues Jonathan Romney, Joanna Hogg is confirmed as one of our subtlest and most probing filmmakers. "As much a downbeat comedy of bourgeois mores," Romney writes, "Archipelago is a sort of claustrophobic horror story, set in a place of no easy escape. This is Hogg's Shutter Island, if you like, although the madness is more discreet, in the English style."
Also in this issue, Joseph Stannard revisits one of Disney's strangest productions, The Watcher in the Woods, Roger Clarke talks to the directors of the Allen Ginsberg tribute Howl, Lucy Reynolds probes Ben Rivers' exploratory gallery films, Isabel Stevens talks to Lucy Walker about her documentary Waste Land and Charles Gant salutes the box-office reign of The King's Speech.
We've reviews of 30 film releases – including Animal Kingdom and Howl – and 18 DVDs, including features on Karel Reisz's Morgan: A Suitable Case for Treatment and a new box-set that collects together the output of the pioneers of New Hollywood, BBS.
Lastly, in our Books section Lee Server enjoys a smart but slim addition to the growing pile of Humphrey Bogart biographies, we dive into a new study of post-war British documentary filmmaking and review a welcome rehabilitation of a pioneer from cinema's early days, Alice Guy Blaché.
---
Subscribe today, save £9 on the cover price, get a free DVD and receive new issues hot off the press and direct to your door!
See also
Boxing Gym reviewed by Isabel Stevens in our 2010 London Film Festival blog (October 2010)
Take it like a girl: B. Ruby Rich on Girlfight (February 2001)
Three Kings reviewed by John Wrathall (March 2000)
London Film Festival 2010: Opening night: Nick James blogs on Never Let Me Go and Archipelago (October 2010)
Offside reviewed by Julian Graffy (June 2006)
Ah liberty!: Kieron Corless on the 2008 London Film Festival's 'Ben Rivers at the end of the world' programme (November 2008)
Looking at the rubber duck: Nicolas Roeg on François Truffaut (Winter 1984/85)
View our archive: order back issues, or search our online database of reviews and features from the magazine